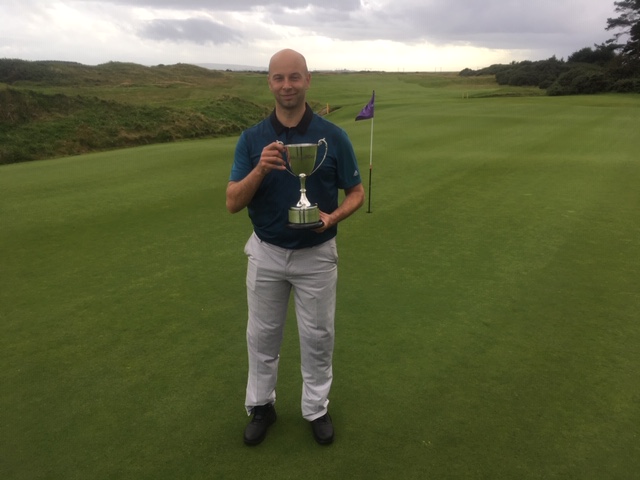 Robert Blair of East Renfrewshire Golf Club won the 6th staging of the Links Golf Cup Ayrshire last week. His 72 hole total of 140 was enough to put him 4 points clear of nearest challenger Dave Morran (Kings Acre) who played some excellent golf throughout the week and held the overall lead going into the final round. Third place was taken by last year's runner-up Robert McGinty (Lanark) on 134, with Will Jones (Lobden) in 4th on the same number.
After his victory, 6 handicapper Robert from Glasgow said "I had a great week and really enjoyed playing some fantastic links courses. I would say Western Gailes is one of the most fun courses I've played. Managing to play well despite the challenging conditions at times was just an added bonus. I'm thoroughly looking forward to coming back next year to defend and have another go at these great courses."
Robert, who represented Great Britain at badminton in the 2004 Olympic Games in Athens and won a bronze medal at the 2014 Commonwealth Games in Glasgow, got off to a fast start at Western Gailes in Round 1 – posting a best of the day 39 points to take the early lead. He then struggled to a 27 on Day 2 at Kilmarnock Barassie, before returning to top form over the 3rd and 4th rounds, scoring 38 and 36 at Gailes Links and Dundonald Links respectively. It was his first time competing in the Ayrshire event after previously having taken part in the East Lothian version back in 2019.
Robert and Dave were joined in the last group at Dundonald Links by Angus Rollo (Skjoldenaesholm) who had made the trip to the west coast of Scotland from his home near Copenhagen in Denmark. Despite a disappointing final round score of 29, Angus still came out on top in the Hole In One Club Par 3 Challenge – his 19 points on the selected par 3s left him 3 clear of his rivals. The 'Long Drivers' ended up in top spot in the Team Competition on 406 – our two overall leaders Robert and Dave were joined in the 4 man team by Richard Hewat (Liberton) and Scott Middleton (Royal Aberdeen) and they won comfortably.
Entries will open soon for next year's Links Golf Cup Ayrshire, which will again be played in early September at the same four courses.