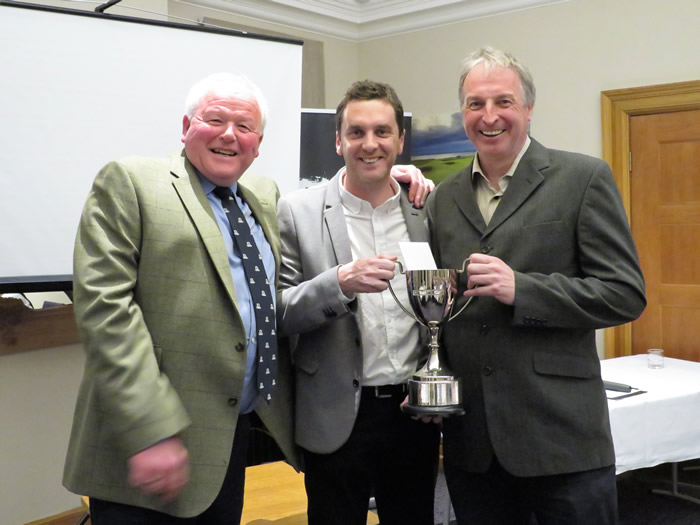 It was Scott Allison of Liberton Golf Club in Edinburgh who finished on top of the pack at the Links Golf Cup East Lothian last March. The victory was all the sweeter for Scott, having finished a close second the year before. Nearly 12 months on, we caught up with him to see if he fancies his chances of defending his title.
Have you enjoyed having the cup this past year?
Yes it has been brilliant having the trophy on the mantelpiece! I was a bit frustrated the year before after going so close, but it made me determined to try again – to win was amazing."
What do you remember about last year's event? In particular the final round at Gullane?
It did not start at all well, with my first tee shot on Gullane 2 hooked out of bounds! At that point it was tempting to just give up on the prospect of going close, but there was still a long way to go. By the time I was on the back 9 on the final day I could feel my game tightening up and it really is tough to 'keep the heid'. I was looking at the fine views down the coast and trying to forget that my heart was beating like a drum and my palms were sweating! The final putt on the final green was such a relief and I at least knew then that I couldn't have done much more in the end no matter the result.
You have been coming along to the event for a while now – what is it that you like about it?
This will be my fourth year. It is a fantastic competition, played in a friendly atmosphere with very welcoming organisers and hosts. I haven't played in anything else like it but can't imagine there are many better. I wish I had enough time to play some of the other events but unfortunately not at this time! Overall, it's a great escape from the daily stresses of work, and it gives everyone the opportunity to meet lots of interesting people from near and far.
We've never had anyone successfully defend the Links Golf Cup before, although of course Rob Seabrook came rather close last year. Do you fancy your chances?
Well I think the pressure has now increased significantly! I have a few more aches and pains now too which won't help. I think the main target will be to try and stay in the frame. Nothing too spectacular necessarily, but just try and keep some composure and see what happens. That was such a strong fighting effort from Rob last year and I knew I would have to dig deep over the last few holes. With over a hundred golfers playing you can only focus on your own thing really.
For the first time competitors in the field this week – what have they got to look forward to with our four Links Golf Cup East Lothian courses?
They will be in golfing heaven that's for sure. The Gullane 1 & 2 courses are a real test and are always in great condition. North Berwick and Kilspindie are both real 'gems' but not too long so everyone has a chance. You just have to hope some putts drop and you get a decent score going. The wind can be a factor so be prepared to try to hit the ball straight and low.
Which of them is your favourite and why?
North Berwick and Kilspindie are both quite quirky and a real pleasure to play. However, it is pretty rare to get the chance to play Gullane 1 so I might have to opt for that one, especially knowing that the Scottish Open has been played there a couple of times recently.
Have you been getting much practice in lately?
Yes, I have played a wee bit over the winter though I have eased off a bit recently. The short daylight hours don't help but it is really important to try and get out to keep the swing together. Some winter days are really nice, so I reckon we should all try and take advantage of those when we can!
Thanks Scott, we wish you the best of luck for the event!